FIRE TRAK Products

Deflection Trak & Firestop System
The Fire Trak System has been developed to solve the problem of firestopping the heads of fire rated partitions, while still allowing for movement of roof or floor decks. It consists of the Fire Trak ceiling runner, with a shoulder that is offset the thickness of the wall material. A second piece of wall material is fitted tight to the roof or floor deck and then is attached to the shoulder. This allows the deck and the Fire Trak ceiling runner to move in relation to the wall studs, and allows the piece of wall material attached to the Fire Trak to slide over the primary wall material.
Simplicity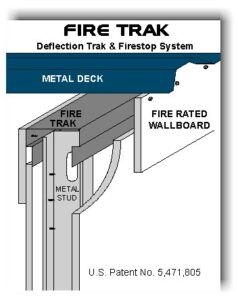 The Fire Trak System uses standard materials that are used to construct the wall. No special training of installers is required.
Life Cycling
This issue seems to be a shortcoming of most systems, the Fire Trak System is not affected by repeated movement of roof or floor decks. It maintains its firestopping effectiveness indefinitely. Life cycling will be more important with new test standards under development.
Sound Control
The Fire Trak System creates such a tight seal that its superior sound control characteristics may have applications even when the walls do not have to be firestopped.

Environmentally Friendly
The extra wall cladding material used in the Fire Trak System is usually smaller pieces of wall material that normally have to be hauled to a landfill as scrap.
Economy
The Fire Trak System can often be installed for a fraction of the cost of other tested systems.

Building Code Compliance
The Fire Trak System meets the requirements of the three model codes.
Fire Trak U.L. Listings click here
TRACKS
Slotted Track – Download Drawing 

V-Track Superior – Download Drawing