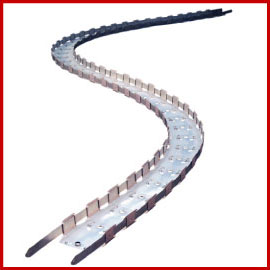 FLEXIBLE PRODUCTS–Flex Ability Concepts:
Flex-Ability Concepts pioneered the development of flexible track products. Patented Flex-C Trac was the first framing product that could be curved by hand right on the jobsite and has become the brand by which all others are measured. Its ease of use and durable reliability have made it indispensable to architects who like to design without the constraint of straight lines and for contractors who now have a fast, effective way of constructing those designs.
Flex-Ability Concepts has continued its leadership position as The Curved Wall People with on-going product development and the introduction of a variety of new products and sizes to meet the needs of the construction industry.
Products include Flex-C Trac and Flex-C Plate, Flex-C Angle, Flex-C Arch, Flex-C Header and Flex Lite. These light gauge steel framing products are used to build curved metal or wood structures. They can be used to frame curved walls, barrel ceilings, wavy ceilings, s-curves, columns, arch ways, curved soffits, light coves and acoustical clouds.
Commercial Products:
Flex-C Trac | Flex-C Lite | Flex-C Arch | Flex-C Angle | Flex-C Header
Residential Products:
Flex-C Plate | Flex-C Arch | Flex-C Angle | Flex-C Header | Quick Qurve
Flex-C Trac, How to Shape and Secure