Stockton Products offers a complete line of metal, wire & aluminum products to the lath and plaster professional. Here are some of the products we carry:
---
PLASTIC
Gooding & Associates is proud to offer the very best in exterior trims. Plastic Component's offers more than 600 different items and sizes. Plastic Components offers the most complete selection of trims, along with the largest line of water management products in the industry. We would be pleased to find the product that would best meet your projects specific needs.

Drywall
All Drywall products are designed for durability and superior long-lasting use.  They won't dent, kink or rust. And they're compatible with most paints and drywall compounds. These accessories are designed for interior application, to resist damage and static electricity. They will not rust. Metal accessories placed against other metal objects can result in electrolysis occurring. With PLASTIC COMPONENTS, INC. PVC accessories, these common problems are eliminated. They may be stapled, nailed, screwed or glued into place. Installation should be in accordance with ASTM C1047-94 with accepted industry practices and local building codes.
Download Description

---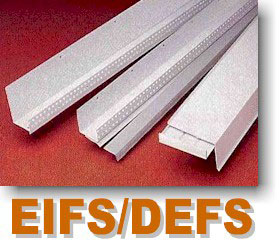 EIFS – Exterior Insulated Finishes and
Direct Applied Finishes
Our EIFS/DEFS products are manufactured of weather- able grade PVC that meets or exceeds ASTM D1784. These products are designed to help eliminate some of the labor intensified practices such as rasping and double wrapping of corners while providing a straight and impact resistant corner. The starter trac with drip edge will stop any moisture from running down the face and back into the system. These starter tracs and casing beads eliminate the need to apply finish at the termination point while providing a straight, impact resistant edge.Installation should be in accordance with, and recommendations of system manufacturer, accepted industry standards and local building codes.

Download Energy Study EIFS

Download Description EIFS

Download Description DEFS

---

Stucco/Plaster
The rust free, impact resistant alternative to metal, our stucco accessories are manufactured from compounds that meet ASTM D1784-92. Install inaccordance with ASTM C1063-94.  These accessories can be applied to ULTRA-LATH, metal lath, masonry, wood base sheathing products, gypsum sheathing, cement sheathing products, block and any other approved substrate. They are designed to control expansion and contraction, trim, and protect the stucco. In addition PVC products will solve problems relating to static electricity, electrolysis, rust, oxidation, excessive dents or kinks and damage in transit or on the job site. Installation should be in accordance with accepted industry standards and local building codes. 
Download Description