A high-tech process for on-track results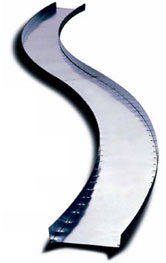 A typical section of curved wall track is 10 feet long. However, our high-tech cutting machines can handle sections of up to 15 feet. Preformed track is available in a variety of metal thicknesses–all the way up to 12-gage track.
The manufacturing process begins with an electronic drawing, which is downloaded to a computer-controlled plasma cutter. Our precision cutting ensures tolerances of one-eighth inch over 10 feet for each finished assembly. It's important to note that our system easily accommodates the downloading of AutoCAD layout files.
Preformed  track is cut from solid sheets of G-90 galvanized steel. The track is also available in aluminum or stainless steel. After cutting, the parts are assembled in the welding department. Spot welds–or stitch welds for heavier gauge metals–assure that Preformed  track maintains its shape.
Every piece is custom-labeled with its inside and outside radius. The labels can indicate where each piece of track belongs, such as a building section or floor location. This shortens the sorting and assembly process, saving considerable man-hours. As soon as the material gets to the job, it's ready to install. There's nothing to do to it.
Preformed  track has no built-in stresses, making it uniform, stable and easier to build with than competing products. Top and bottom track match precisely. Curved counters set against curved walls fit perfectly. Fixtures hung on the walls require less shimming. Walls made from prefabricated curved track are much stronger and more secure than walls made from field-cut track.
PREFORMED TRACKS
No more crimping or cutting track on the job site. With preformed radius products, you're assured of one single solid product. The preformed method of creating curved wall track is the only method that ensures accuracy, stability and cost-efficiencies. Save time and money.
See How Its Done   (link to demo)
Our custom sheet metal fabrication shop provides comprehensive computer-controlled design, fabrication, and assembly. All you have to do is put the sections in place.
HEAVY TRACK


Curved Wall Track
Heavy gage/Stitch weld
Primarily specified for load-bearing walls. However, other popular applications include constructing heavy domes and prefabricating curved outside walls. By prebuilding walls prior to shipping them to the job site, you'll save yourself untold headaches and man-hours. You can easily transport these prefab walls to a job site and set them in place quickly and precisely. Structural engineering specs are available.
LIGHT TRACK

Curved Wall Track
Light gage/Spot weld
Specify this product for curved walls and suspended walls. Curved track can also be used on its side for structural support of high strength domes and curved ceilings, providing much stronger configurations than arched track. Structural engineering specs are available.
ARCHED TRACK


Arched Track
Ideal for vaulted ceilings, arched openings, and framing openings for arched windows. You can also lay arched track on its side to make one-piece soffit faces in ceilings.
CURVED ANGLE


Curved Angle Track
Primarily designed for ceiling soffit edges and as an internal framing component.
DOMES – Round Cone

DOMES are custom made. Please Email the office for information.
Download Order Forms
Curved Wall Track